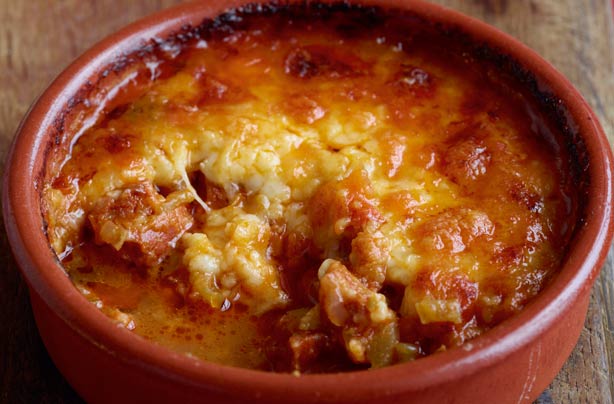 MEXICAN CHORIZO FONDUE
Restaurant Recipe
4 ounces uncooked chorizo sausage, casing removed
1/2 cup finely chopped yellow onion
1-3 teaspoons minced canned chipotle peppers in adobo sauce (
depending on the heat level you like
)
1 clove garlic, minced
1 cup Lager beer or chicken broth
8 ounces Monterey Jack cheese, shredded
8 ounces Mexican melting cheese (
such as queso asadero or Chihuahua
) shredded or crumbled
1 tablespoon cornstarch
Dippers, such as tortilla chips, cooked chicken chunks, toasted French bread cubes, and assorted vegetable chunks (
sweet peppers, zucchini, yellow squash, broccoli, and cherry tomatoes
) to complete your meal.
In a medium saucepan cook chorizo over medium heat until browned. Drain all but 1 tablespoon fat. Add onion and cook for 5 to 7 minutes or until tender. Stir in chipotle peppers and garlic. Add beer; bring to a simmer.
In a large resealable plastic bag combine cheeses and cornstarch. Seal bag; shake to coat cheeses with cornstarch. Add cheeses, a handful at a time, to saucepan, stirring until each addition is melted before adding more. Transfer cheese mixture to a fondue pot and keep warm. Serve with desired dippers. Makes about 3 cups;
Notes: Use additional Monterey Jack or whole milk mozzarella if suitable Mexican cheese is not available. To toast bread cubes, place French bread cubes on a baking sheet. Bake in a 350 degree oven for 5 to 7 minutes or until crisp and toasted.